How to Order

Omega reference: rx1443
NOTE: For purchases using an underlying credit card, due to changes in Paypal policy, all returns, including order cancellations, including orders that have not shipped, are now subject to a 5% Restocking fee. NO EXCEPTIONS. Sorry, but they are no longer refunding credit card fees in cases of returns or cancellations.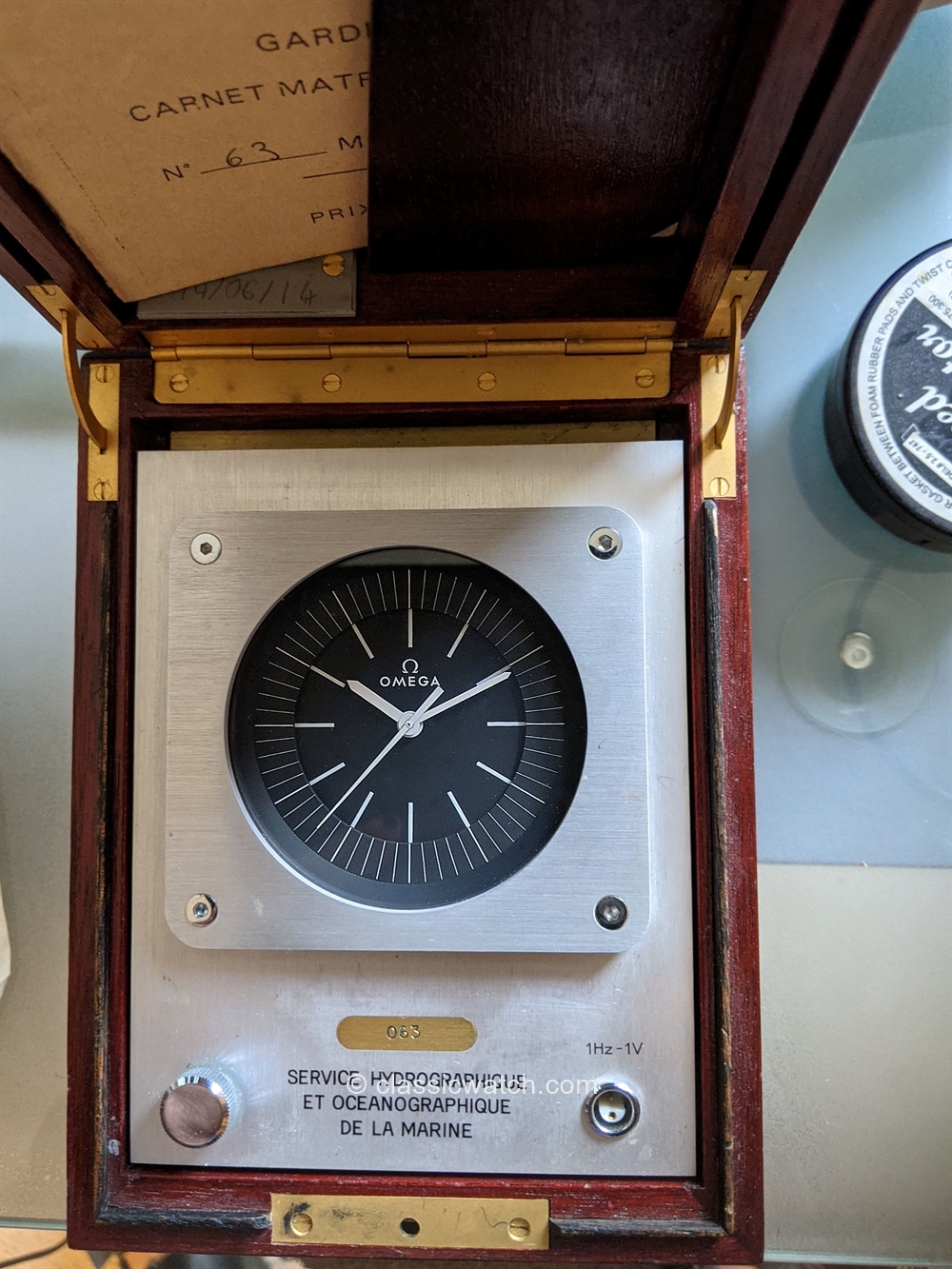 Omega - signed chronometer grade quartz movement (caliber 1525 4.19 Mhz), french military spec with anti-magnetic enclosure,

excellent+

brushed aluminium case (approximately 130x100mm) in its fitted oak carrying case (shows some scarring from use ex+ rating). Original paperwork indicating this was the Marine Chronometer from the French Navy Fregate "Latouche-Treville" . The chronometer comes with log entries and a spec sheet with instructions..

near mint+

signed black dial (original) with white painted markers, sweep seconds. Under the dial are the regulation and setting area.

Exceedingly rare, one of 200 French Navy Marine Chronometers, this one is from the frigate "LaTouche-Treville". Very rugged and extremely accurate high frequency movement

(Ref rx1443) $5,395
All inventory stored off premises in safe deposit boxes.
We are a mail order business and do not show watches in person.
If you have a Paypal account, with a confirmed address, you can use the "Buy Now" button to make an immediate purchase. With a Paypal account (www.paypal.com), you can make your classicwatch.com purchases securely on-line using any major credit card or your own bank account. Just click the "Buy Now" button and follow the simple instructions. If you do not have Paypal you may still use a credit card by clicking on the "I do not have a paypal account" by scolling to the bottom of the final payment screen. Please For security reasons, watches must ship to the billing address/confirmed Paypal address. Your purchase will be on its way within 48 hours. Please note, that
unless you have a confirmed Paypal address, I will only accept a bank wire for international purchases above $1,000
. Please email
sales@classicwatch.com
for further details if you are outside of the U.S.A.
To place a hold (and to make other payment arrangements such as a bank wire), email us at (
sales@classicwatch.com
) your "firm commitment to purchase". The email should include the brand name, the reference number, and the price of the watch(es), e.g., "LeCoultre (ref rxxxxx) $995", as well as your full name, shipping address and payment method. With firm commitment, the watch, if available, will be placed on hold for you pending receipt of payment (see below).
We are happy to answer questions about any of our timepieces, however, watches stay "in play" until a firm commitment to purchase is acknowledged. If you wish to purchase the watch
so indicate in your email
. Unless there is a
clear statement
of intent to purchase the watch remains "in play".
Orders are generally shipped within 48 hours as all watches are checked immediately prior to shipping.
Shipping and handling charges
can be previewed during the checkout process prior to payment. Most domestic packages ship via Fedex express (2 day or international priority service) unless prior arrangements are made.
Select "Latest Additions" for our most recent vintage watch additions.
Select "Advanced Search" to further narrow your vintage watch search.
All vintage watches timed, detailed and ready to wear.
Satisfaction guaranteed - 5 Day unconditional return policy.
Click on watch picture for larger picture.