Military Watches
13 items found, showing 8 to 13
For more items, click these pages:
(Previous)
1
2
Omega watches for sale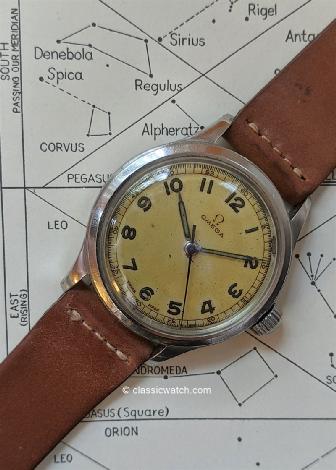 Omega

U.S. Army -

near mint

stainless steel signed screw back case, 35mm diameter, reference CK2179, "U.S. Army" etched on the back , all letters still clearly visible, older replacement crown.

excellent+

beautifully aged original radium dial with luminous Arabic numerals, sweep seconds, luminous hands likely relumed a long time ago. 16 jewel signed caliber 30.T2 SC, serial #10.1M, Omega archives (via email) will show a Feb 1945 delivery date to the US Army,

Hard to find the US Army CK2179 with a nice dial and the case back engraving intact, with Omega email confirmation it's a from 1945.

(Ref rxc0003)


$2,195

Ask Question
How to Order
Buy Now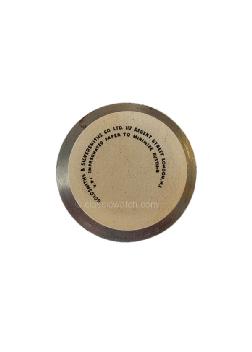 Omega

Omega RAF 53 VPI disk -

New

Reproduction of the 1953 RAF Omega "VPI" paper disk, so called vapor phase inhibitor. These are made from regular paper, stick like a post-it and are aged to look identical with a light plastic coating to preserve the print.

Add the final touch to your 1953 Omega with this VPI paper reproduction, it's an extremely rare item in the wild.

(Ref rx1258)


$10

Ask Question How to Order Buy Now
Smiths watches for sale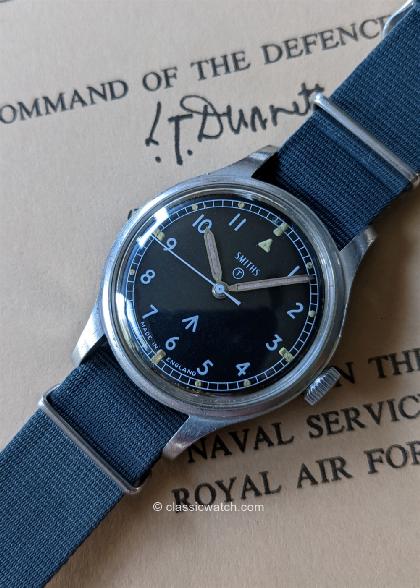 Smiths

British Military -

excellent+

stainless steel round screw back case (35mm, British 6B/9614045 RAF markings, original plain crown, fixed lug bars, Nato strap.

near mint+

original signed black dial with painted Arabic numerals and luminous hour markers, sweep seconds. 17 jewel signed manual wind movement, hack setting with dust cover,

Classic sweep second Smiths British Military from 1967...known as "the last watch to be made in England". This is the rare 6B RAF variant. 10x less common than the Army W10 with around 1500 made..

(Ref rx1492)


$2,195

Ask Question
How to Order
Buy Now
Stowa watches for sale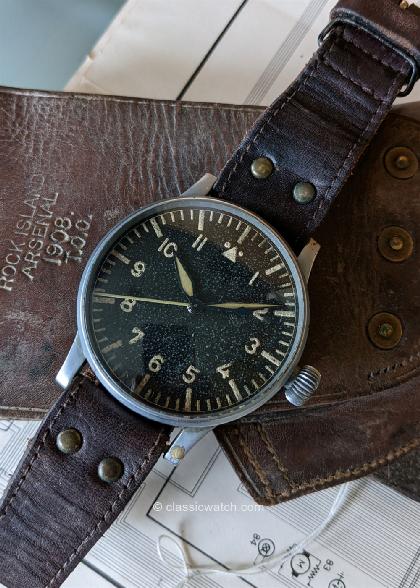 Stowa

Beobachtungsuhr -

excellent+

plated nickel alloy signed snap back case (54mm, with German Military markings) all movement and case numbers correct and match each other with original type strap over the jacket strap.

excellent+

original black dial, with luminous numerals & hands, sweep seconds, onion crown. 20 jewel signed movement chronometer grade with swan's neck regulation,

Genuinely rare Stowa WWII German Luftwaffe "Beobachtungsuhr" 1st pattern Observation Pilot's watch circa 1940. This is the rarest B-Uhr after the IWC with a total production of under 1,000 pieces; lovely patinated example.

(Ref rx1479)


$4,395

Ask Question
How to Order
Buy Now
Tudor watches for sale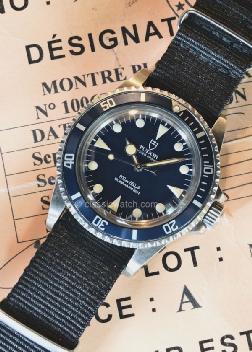 Tudor

French Navy -

near mint

stainless steel signed round screw back case with 1983 Marine Nationale markings (40mm, reference 94010, serial #106,xxx), original Rolex signed crown, fitted with black Nylon strap.

mint

lovely original signed deep blue gloss finish dial, luminous markers, sweep seconds, original French Navy decommission papers matching that of case serial number. Ultra rare lollipop handset. 25 jewel signed full rotor automatic movement, ETA 2776, hack setting,

Impossible to find now, Tudor Marine Nationale with decommissioning papers and lollipop hour hand, the last year of issue for the Marine Nationale and Tudor. Decommissioning papers indicating it was retired from service in Sept. 2001, fantastic provenance.

(Ref rx1376)


$32,995

Ask Question
How to Order
Buy Now
Vixa watches for sale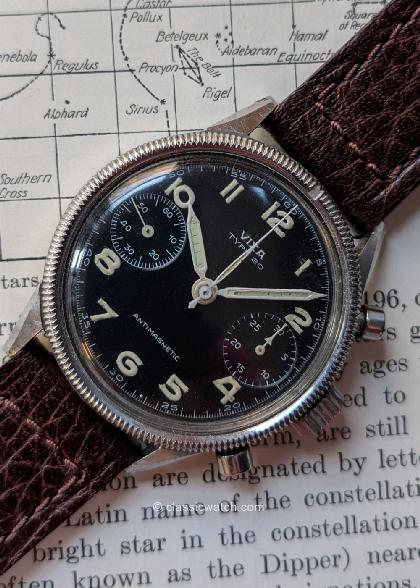 vixa

French Type 20 -

near mint

never polished, stainless steel screw-back case with rotating bezel (39mm with the original "Fin de Garantie" mark, original plain crown.

mint

original radium "VIXA" signed black dial with luminous Arabic numerals, 2 registers: constant seconds and 30-minute recorder, chronograph center seconds. For more info on French Airforce Type 20s [click here]. 17 jewel manual wind chronograph movement (Hanhart caliber 42-51) with "retour en vol" flyback feature,

Never polished, original radium dial example the French Airforce VIXA Type 20 flyback chronograph from 1954. This example is one of 4,000 made by Hanhart for the French Airforce.

(Ref rx1446)


$4,295

Ask Question
How to Order
Buy Now
Select "Latest Additions" for our most recent vintage watch additions.
Select "Advanced Search" to further narrow your vintage watch search.
All vintage watches timed, detailed and ready to wear.
Satisfaction guaranteed - 5 Day unconditional return policy.
Click on watch picture for larger picture.