Vintage Wrist Watches
21 items found, showing 15 to 21
For more items, click these pages:
(Previous)
1
2
3
Jaeger-LeCoultre watches for sale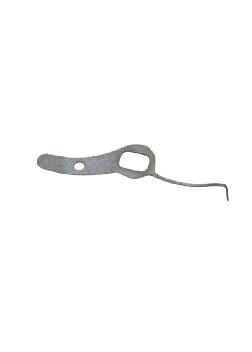 Jaeger-LeCoultre

Futurematic hack lever -

mint

Futurematic hack lever part #9433. Suitable for all caliber 497, caliber 817, 827 and 837. Each one checked for proper bend prior to shipping.

Rare part! Many of the Futurematics have the broken or missing, get them while I have them.

(Ref rx1275)


$89

Ask Question
How to Order
Buy Now
LeCoultre watches for sale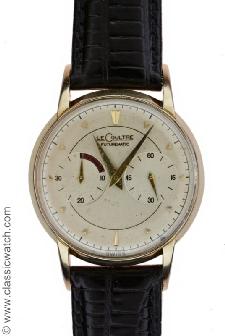 LeCoultre

Futurematic -

excellent

yellow gold-filled [signed] round snap [back] case (34mm), back set original crown, showing wear on the high spots.

excellent+

nice original signed silver dial with even moderate patina, applied yellow markers, two registers; constant seconds and power reserve indicator. 17 jewel signed bumper automatic [movement] (caliber 497) still hack setting,

Classic circa 1953 LeCoultre "Futurematic" the world's first fully automatic wristwatch, this model has fancy claw lugs.

(Ref rx1132)


$925

Ask Question How to Order Buy Now
Longines watches for sale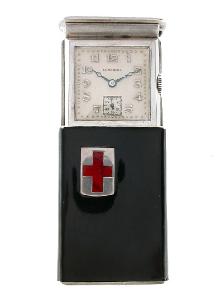 Longines

Enamel Purse Watch -

near mint

0.925 silver case, in enamel, with red cross motif, watch is spring loaded and slides in and out. Top is black, bottom is red enamel. Serial number macthes that of the movement. [click for back], [another view].

near mint

lovely original frosted white dial with silver applied markers, subsidiary seconds. 15 jewel signed manual wind [movement] (caliber 10.26, nice high grade decorated w/Geneva stripes),

Gorgeous enamel medical enamel "purse watch" from the 1930s, Longines' heyday. Fantastic overall quality and condition.

(Ref rxr0144)


$2,095

Ask Question How to Order Buy Now
Omega watches for sale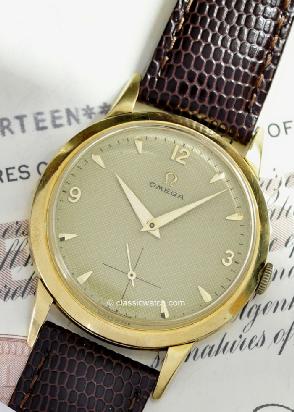 Omega

Round -

near mint

18K pink yellow signed round snap back case (36mm diameter), Omega signed crown.

near mint

spectacular signed silver champagne honey comb original dial original with gold applied, dauphine hands and sweep seconds. 17 jewel signed movement wind movement (caliber 266, 13.7M serial),

Lovely solid 18k pink gold Omega with super attractive honey comb dial, 18k Swiss made case, circa 1953.

(Ref rxr0349)


$1,895

Ask Question How to Order Buy Now
Patek Philippe watches for sale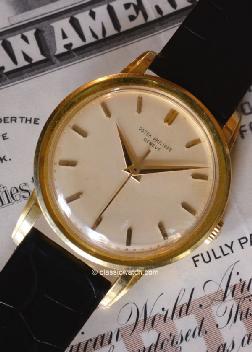 Patek Philippe

2481 -

near mint

Unpolished signed 18k yellow gold snap back case, large 37mm diameter, original Patek Philippe and fancy fluted lugs, still with factory finish, case reference 2481.

near mint

original silver dial satin dial, with applied markers and original gold dauphine hands and sweep seconds.. 18 jewel signed manual wind movement, caliber 27SC,

Lovely unpolished Patek Philippe reference 2481, one of the larger gold watches of the era, comes with archive extract indicating November 1956 delivery.

(Ref rxr0343)


$15,495

Ask Question
How to Order
Buy Now
Rolex watches for sale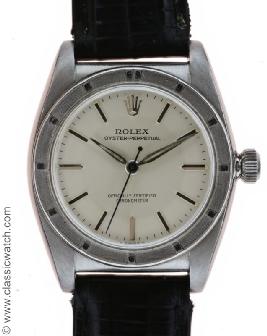 Rolex

Bubbleback -

near mint

Stainless steel engine turned bezel, case diameter 32mm. Rolex "Oyster Patent" crown, Rolex case reference # 3372.

mint

superbly restored signed dial in white with steel markers, Dauphine hands, blued steel sweep and genuine vintage Rolex buckle. Rolex caliber 630 family automatic movement,

Beautiful cosmetics on this 1950s vintage Rolex bubbleback automatic, reference 3372.

(Ref rx1191)


$2,895

Ask Question How to Order Buy Now
Wittnauer watches for sale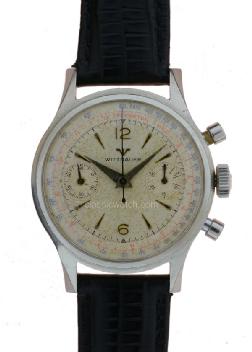 Wittnauer

2 Register -

near mint

unpolished stainless steel screw back case (35.5mm diameter).

excellent+

pleasingly aged original dial, two registers; constant seconds and 30 minute recorders, chronograph sweep seconds, dial calibrated for tachymeter and telemeter. 17 jewel signed manual wind chronograph movement, Venus 188,

Very cool vintage look on this all stainless screw back Wittnauer two register chronograph with Venus 188.

(Ref rxr0311)


$825

Ask Question How to Order Buy Now
Select "Latest Additions" for our most recent vintage watch additions.
Select "Advanced Search" to further narrow your vintage watch search.
All vintage watches timed, detailed and ready to wear.
Satisfaction guaranteed - 5 Day unconditional return policy.
Click on watch picture for larger picture.